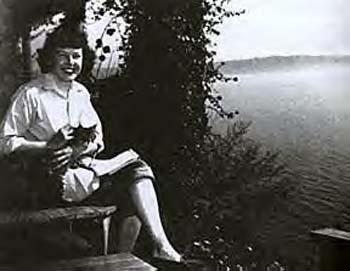 Betty with her cat on Vashon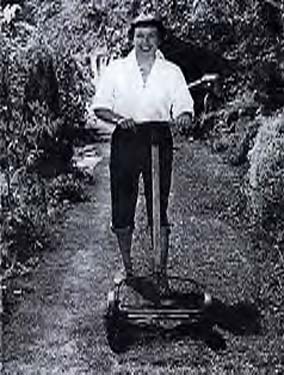 Betty mowing her yard! (I have the same kind of mower - it's a coincidence - really. She must have been pretty butch, or I'm pretty wimpy)
Betty Bard MacDonald
Betty and I go 'way back. Although I never met her (she died in 1959) I first came across her one cold dark November afternoon in my parent's basement when I found a copy of "Onions in the Stew", her recollection of life on Vashon Island in the 1940's (Vashon is an Island here in Puget Sound and a suburb of Seattle)
I loved "Onions in the Stew" and wanted more - and fortunately for me, there were other books, from her first Book "The Egg and I" on through "Anybody Can Do Anything" (All of them are outlined below, with links to their listings on Amazon.com - GO BUY THEM AND READ THEM!!!!
Betty was born in Butte, Montana and raised mostly in Seattle. Her books are about her life and times, begining with life as the wife of a Chicken Rancher on the Olympic Penisula, through the trials of life in depression-era Seattle, her time in a tuberculosis sanitarium, and finishing with her successful second marriage to a Boeing engineer and their life together on Vashon.
That doesn't sound particularly exciting, I know. But you have to read her books. She has a fun, sophisitacted style and a wonderful sense of humor and narrative. Her books are sprinkled liberally with recollections of her childhood and her family (particularly of her paternal Grandmother and her older sister Mary) They are also wonderful accounts of life here in the Pacific Northwest during the middle part of the 20th Century.
Betty Also wrote some children's books, which are very highly praised, but I've never read them.
It's Betty's fault that I now live in Seattle - her descriptions of the city and the region captivated me, and made me want to come here. Once I did, I knew I was home.
Betty is experiencing something of a renaissance these days. There are Betty MacDonald Fan Clubs, Betty MacDonald Festivals, even her sister Mary has a fan club. (Mary wrote a few books also. I used to pan them, but they kind of grow on you. I think it was probably difficult to write in her sister's shadow)
Years ago, I was going through the book section of a thrift shop up in the University District, and found a Betty Macdonald book. As there are quite rare, I snapped it up without even looking at the inside. It wasn't until I was on the bus going home that I opened it, and found newspaper clippings on Betty's death (she died of lung cancer at the age of 49, which isn't suprising as she had had tb and smoked like a chimney, or so it seems from her books)There was a quote from her in one of the articles which I wish I could remember (I have misplaced the clippings, unfortunately, but it basically came down to how she had been a good sport about everything throughout her life, but she didn't feel like being a good sport about cancer. It was a typical Betty MacDonald quote: Flippant, off-the-cuff and stylish, but with a deeper truth behind it, and an acknowledgment of sadness without being maudlin. I admire that quality, and I've often thought of it when faced with challenges of sadness in my life.
Wherever Betty is, I wish her well. She was quite a gal.
Below are the books I was telling you about - don't forget: BUY THEM AND READ THEM!!!!! Click on the starburst to be taken to the listing on Amazon.com, and no, I'm not getting a commission on the clicks or the sales ;-)
| | |
| --- | --- |
| | "The Egg and I": The first of the series, this book traces Betty's marriage to an insurance salesman turned chicken rancher. From her experiences as a mountain wife (complete with outhouse, gasoline lanterns and wacky hillybilly neighbors) through the birth of her two daughters, this book is a true pleasure from start to finish. |
| | "Anybody Can Do Anything!": This takes up with Betty Leaving her rancher husband and moving back to the big city, just in time for the Great Depression. A fascinating account of life in Seattle during the early 1930's and what a woman would do to support her family. >! |
| | "The Plague and I": Sometime during the 1930's, Betty contract tuberculosis, and was sent to live at at a TB Sanitarium. A funny yet poignant (I usually hate that description, but it really does work here) of dealing with a potentially fatal disease. Next time you have problems with your HMO, read this book - at least you don't have to go to "The Pines" TD> |
| | "Onions In The Stew": The last of Betty's "adult" books (versus the kid's books that is - she's no Jaqueline Suzanne) finds her moving to Vashon with her new husband, and the trials and tribulations of raising adolescents (if you have a teen at home, you will find her experiences in motherhood as relevant today as they were in the '40's) |
| | "Nisei Daughter" by Monica Soane: While this isn't a Betty MacDonald book, Nisei Daughter was written by Monica Sone (aka "Kimi" in "The Plague and I") It is a first hand account of her life, including her time at Firland Sanitarium ("The Pines"), as well as her internment during World War II for the "crime" of being Japanese (President Roosevelt's only flaw, as far as I'm concerned. But the west coast agricultural interests had him over a barrel, but I digress) An interesting read, with contemporary ramifications. |
| | Historylink.org Slide Show: Here is a link to a very fun slide show about Betty's life in Seattle, including the many homes she lived in through the course of her life |
| | Historylink.org Essay: Here is another Historylink.org entry: An essay about Betty and Mary, as well as the entire Bard Family |
| | Historylink.org and the Firland Sanitarium: Want to find out more about "The Pines"? Read this historylink.org essay about Firland Sanitarium |
| | Historylink.org and William Cummings: Betty's assistant during her time with the NYA (mentioned in "Anybody can do Anything" was an accomplished artist. |
...and like I said there were several kid's books. Don't forget about them!